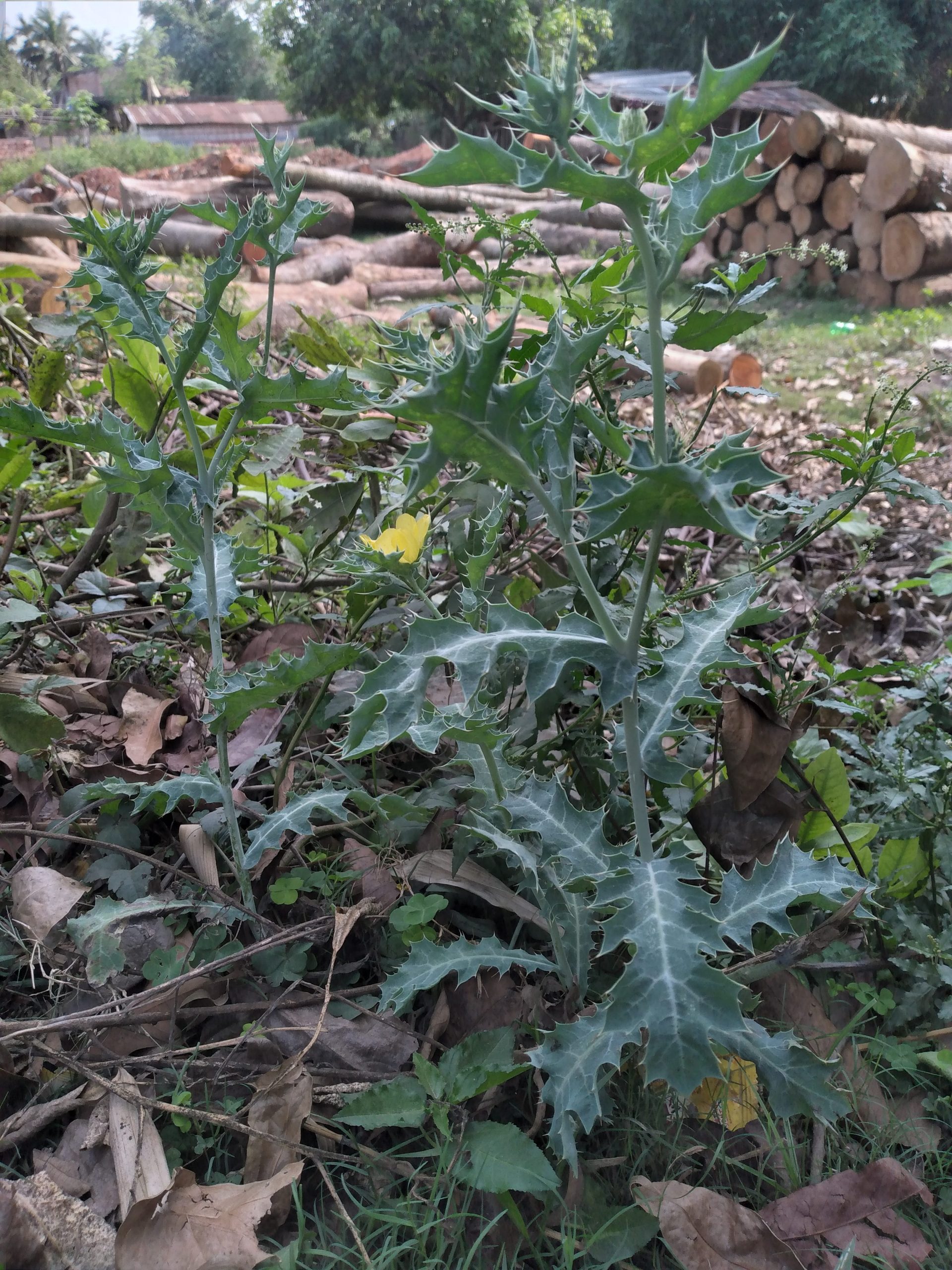 Argemone mexicana (Mexican poppy, Mexican prickly poppy, flowering thistle, cardo or cardosanto) is a species of poppy found in Mexico and now widely naturalized in many parts of the world. An extremely hardy pioneer plant, it is tolerant of drought and poor soil, often being the only cover on new road cuttings or verges. It has bright yellow latex. It is poisonous to grazing animals, and it is rarely eaten, but it has been used medicinally by many peoples, including those in its native area, as well as the Natives of the western US, parts of Mexico and many parts of India. In India, during the colorful festival Holika Dahan, adults and children worship by offering flowers, and this species is in its maximum flowering phase during March when the Holi festival is celebrated. It is also referred to as "kateli ka phool" in India.

Chemical constituents
Argemone mexicana seeds contain 22–36% of a pale yellow non-edible oil, called argemone oil or katkar oil, which contains the toxic alkaloids sanguinarine and dihydrosanguinarine. Four quaternary isoquinoline alkaloids, dehydrocorydalmine, jatrorrhizine, columbamine, and oxyberberine, have been isolated from the whole plant of Argemone mexicana.Many other alkaloids such as argemexicaines A and B, coptisine, cryptopine, allocryptopine and chelerythrine have also been found in this plant.
The seed pods secrete a pale yellow latex when cut open. This argemone resin contains berberine and protopine.
Traditional medicine
The Seri of Sonora, Mexico use the entire plant both fresh and dried. An infusion is made to relieve kidney pain post-natally. When the Spanish arrived in Sonora, they called it cardosanto, taken as a laxative. An Argemone mexicana tea is used in Mali to treat malaria. In the traditional medicine of India, the yellow sap of A. mexicana and the whole plant may be used as a supposed treatment for jaundice.
References
Botanical Society of Britain and Ireland. 2015-06-26. Retrieved 2014-10-17.
Thomas C. Fuller (1986). Poisonous plants of California. University of California Press. pp. 201–. ISBN978-0-520-05569-8. Retrieved 21 April 2013.
Singh, S.; Singh, T. D.; Singh, V. P.; Pandey, V. B. (February 2010). "Quaternary Alkaloids of Argemone mexicana". Pharmaceutical Biology. 48 (2): 158–160. doi:10.3109/13880200903062622. PMID20645832.
Chang YC, Hsieh PW, Chang FR, Wu RR, Liaw CC, Lee KH, Wu YC (February 2003). "Two new protopines argemexicaines A and B and the anti-HIV alkaloid 6-acetonyldihydrochelerythrine from formosan Argemone mexicana". Planta Medica. 69 (2): 148–52. doi:10.1055/s-2003-37710. PMID12624820.
"Epidemic dropsy". WHO South East Asia Regional Office. Archived from the original on August 21, 2006. Retrieved 2006-11-17.
Felger, R. S.; Moser, M. B. (1985). People of the Desert and Sea. Tucson, AZ: University of Arizona Press. ISBN9780816508181.
Moore, M. (1990). Los Remedios: Traditional Herbal Remedies of the Southwest. Santa Fe, NM: Museum of New Mexico Press.
Merlin L Willco; Bertrand Graz; Jacques Falquet; Chiaka Diakite; Sergio Giani; Drissa Diallo (2011). "A "reverse pharmacology" approach for developing an anti-malarial phytomedicine". Malaria Journal. 10 (Suppl 1): S8. doi:10.1186/1475-2875-10-S1-S8. PMC3059466. PMID21411019.