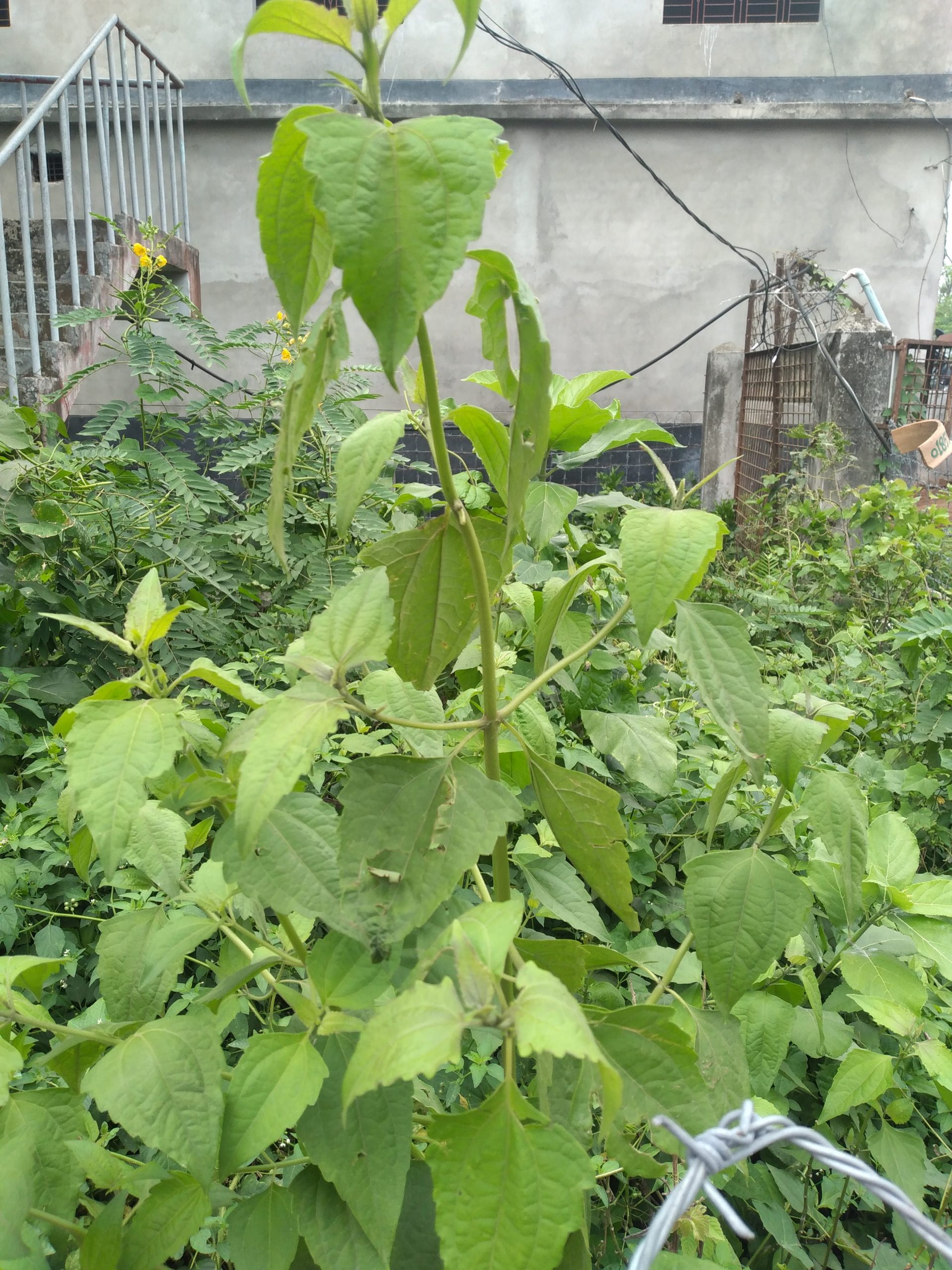 Chromolaena odorata is a tropical and subtropical species of flowering shrub in the family Asteraceae. It is native to the Americas, from Florida and Texas in the United States south through Mexico and the Caribbean to South America. It has been introduced to tropical Asia, West Africa, and parts of Australia.
Common names include Siam weed, Christmas bush, jack in the box, devil weed, Communist Pacha (കമ്മ്യൂണിസ്റ്റ് പച്ച) in Malayalam, common floss flower, rompe saragüey (in Spanish), Abani di egwu or Nsiibilibe (Igbo language), and triffid.
Uses

A recent review indicates that the ethno-pharmacological, fungicidal, nematicidal importance of the plant and its use as a fallow species and as a soil fertility improvement plant in the slash and burn rotation system of agriculture has contributed to its continued use and spread in Nigeria.
Toxicity
Chromolaena odorata contains carcinogenic pyrrolizidine alkaloids. It is toxic to cattle. It can also cause allergic reactions. Recent research has shown the plant is larvicidal against all major mosquito vectors.
References
"Chromolaena odorata (L.) R.M.King & H.Rob.". The Global Compositae Checklist (GCC) – via The Plant List.
Nesom, Guy L. (2006). "Chromolaena odorata". In Flora of North America Editorial Committee (ed.). Flora of North America North of Mexico (FNA). Vol. 21. New York and Oxford – via eFloras.org, Missouri Botanical Garden, St. Louis, MO & Harvard University Herbaria, Cambridge, MA.
"Chromolaena odorata". County-level distribution map from the North American Plant Atlas (NAPA). Biota of North America Program (BONAP). 2014.
"Chromolaena odorata (L.) R. M. King & H. Rob". Germplasm Resources Information Network (GRIN). Agricultural Research Service (ARS), United States Department of Agriculture (USDA). Retrieved 15 July 2017.
Chen, Yilin; Kawahara, Takayuki; Hind, D. J. Nicholas. "Chromolaena odorata". Flora of China. Vol. 20–21 – via eFloras.org, Missouri Botanical Garden, St. Louis, MO & Harvard University Herbaria, Cambridge, MA.
"Chromolaena odorata (L.) R.M. King & H. Rob.". Tropicos. Missouri Botanical Garden.
"Species: Chromolaena odorata (Siam Weed)". bie.ala.org.au. Atlas of Living Australia. Retrieved 4 June 2021.
Uyi OO, Ekhator F, Ikuenobe CE, Borokini TI, Aigbokhan EI, Egbon IN, Adebayo AR, Igbinosa IB, Okeke CO, Igbinosa EO, Omokhua GA. 2014. Chromolaena odorata invasion in Nigeria: A case for coordinated biological control Management of Biological Invasions (2014) 5(4): 377–393.
The plant is referred to as "rompe saragüey" by practitioners of Santeria, who use it for spiritual purposes. This use was famously mentioned in the salsa (music) song "Rompe Saragüey" by Héctor Lavoe.
Lalith Gunasekera, Invasive Plants: A guide to the identification of the most invasive plants of Sri Lanka, Colombo 2009, p. 116–117.
Fu, P.P., Yang, Y.C., Xia, Q., Chou, M.C., Cui, Y.Y., Lin G., "Pyrrolizidine alkaloids-tumorigenic components in Chinese herbal medicines and dietary supplements", Journal of Food and Drug Analysis, Vol. 10, No. 4, 2002, pp. 198-211
Gade, S; Rajamanikyam, M; Vadlapudi, V; Nukala, KM; Aluvala, R; Giddigari, C; Karanam, NJ; Barua, NC; Pandey, R; Upadhyayula, VS; Sripadi, P; Amanchy, R; Upadhyayula, SM (2017). "Acetylcholinesterase inhibitory activity of stigmasterol & hexacosanol is responsible for larvicidal and repellent properties of Chromolaena odorata". Biochimica et Biophysica Acta (BBA) – General Subjects. 1861 (3): 541–550. doi:10.1016/j.bbagen.2016.11.044. PMID27916676.