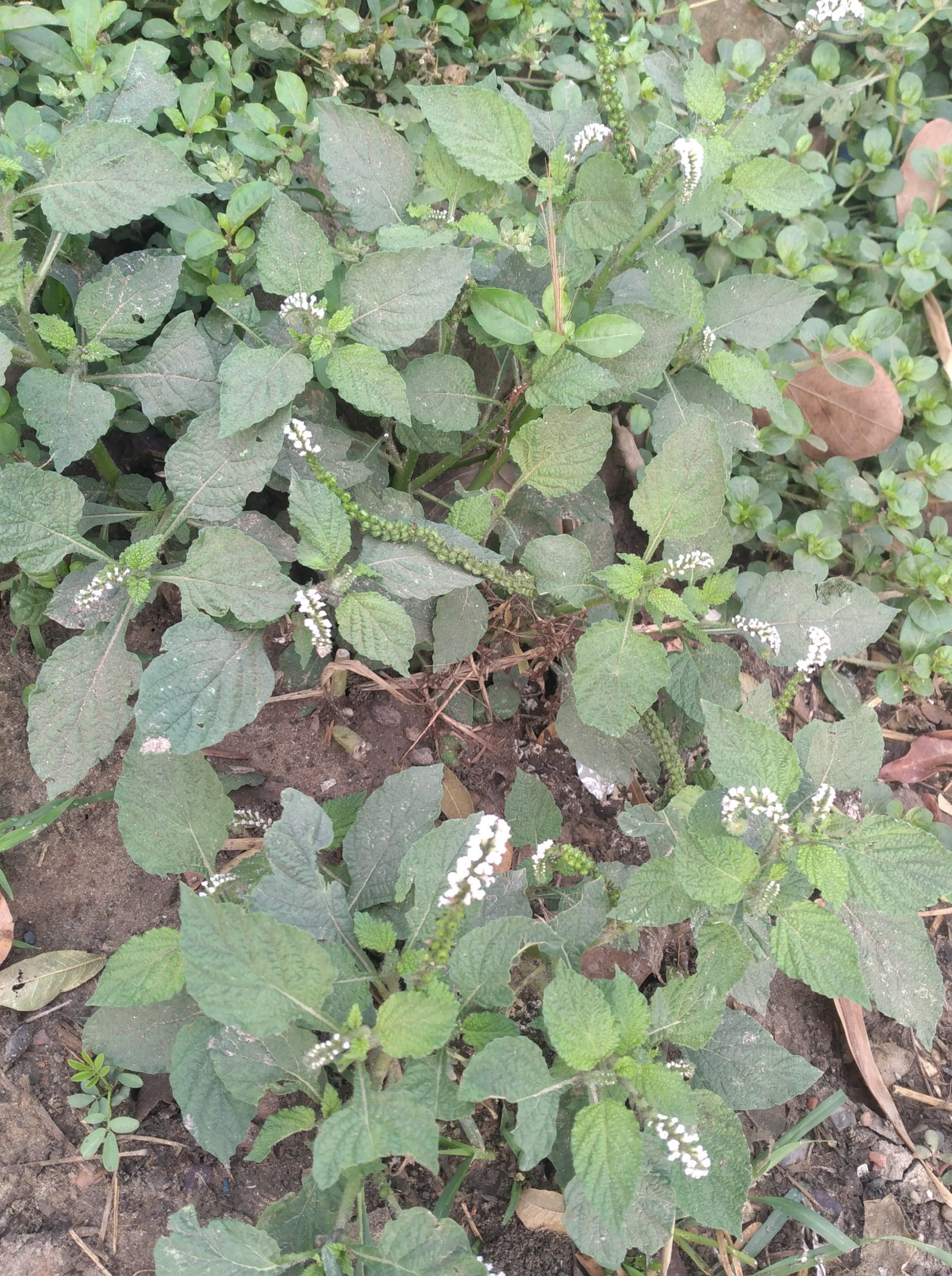 Heliotropium indicum, commonly known as Indian heliotrope, Indian Turnsole is an annual, hirsute plant that is a common weed in waste places and settled areas. It is native to Asia. It is widely used in native medicine in Tamil Nadu, India.
Traditional medicine
In the Philippines, the plant is chiefly used as a traditional medicine. The extracted juice from the pounded leaves of the plants is used on wounds, skin ulcers and furuncles. The juice is also used as an eye drop for conjunctivitis. The pounded leaves are used as poultice.
The plant has been widely used for centuries to treat warts, inflammations and tumours. Throughout tropical Africa it is used as an analgesic to ease rheumatic pain, as a diuretic and to treat numerous skin problems including yaws, urticaria, scabies, ulcers, eczema and impetigo. Throughout the Continent, there is a wide variation in the plant parts that are used, and also in methods of preparation and administration.
A decoction of the whole plant is used to treat thrush, diarrhoea, diabetes, venereal diseases and frequent excretion of urine. The whole plant is boiled and the beverage used as a remedy for heat rash. It is boiled with Desmodium sp. (ironweed) in a decoction that is used as a purgative of the reproductive system to function as a 'cleanout' for men and women.
An infusion of the plant is used as an eye-lotion and to clean ulcers.
The leaves are haemostatic, stomachic. An infusion is used as a remedy for asthma, ulcers, dysentery, bronchitis, red eyes, boils etc. The leaf juice is used to treat and soothe the pain of conjunctivitis. Mixed with coconut oil and a small amount of salt, the leaves are administered to children as a remedy for colds, grippe and coughing. The leaves are boiled with Mikania micrantha for treating upset stomachs.
The powdered leaves are used to treat infected gums. A poultice made from the leaves is applied to rheumatic limbs, to wounds and insect bites.
The flowers are emmenagogue in small doses and abortifacient in large. They are used to control menstrual blood loss; yaws; skin ulcers.
The plant contains the hepatotoxic pyrrolizidine alkaloids heliotrine and lasiocarpine. The major alkaloid, indicine, shows antitumor activity.
Other Uses
The whole plant is buried and, after the fleshy tissue has rotted away, the remaining fibre is used to make false hair for women.
References
"Trompang elepante". Philippine Medicinal Plants oten.
"Heliotropium indicum L."USDA Plants Database.
Onaylos, Irma Noel. Plants That You Know But Really Don't: Home Remedies from 110 Philippine Medicinal Plants. Cebu City: Our Press, Inc. p. 40.
Fu, P.P., Yang, Y.C., Xia, Q., Chou, M.C., Cui, Y.Y., Lin G., "Pyrrolizidine alkaloids-tumorigenic components in Chinese herbal medicina and dietary supplements", Jornal of Food and Drug Analysis, Vol. 10, No. 4, 2002, pp. 198-211
Useful Tropical Plants